Tiny french neon helicopters
Last night, after our encore at Villa Papillon Thai restaurant, we did not go home. Even though the Tour Eiffel is a tourist trap, it is worth the wait. The thousands of people on line are kept entertained with search lights, light shows and a steady stream of tiny glowing helicopters launched skyward by a legion of souvenir hawkers.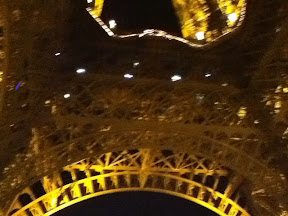 We had online tickets so we didn't have to wait in the mile-long line but got to squeeze in the rickety, old elevator along with the loud-mouthed Americans going on about how expensive the cheeseburgers and cokes are over heeeeere in France. Even T instinctively began speaking Italian to distinguish herself from them.
Once on the viewing platform, though, were mesmerized by the glowing lights on the Seine and the gleaming churches and distant monuments. We didn't get home until midnight, and our feet were worn through to the bones. It was a magical night.