Word to the wise
Word to the wise: if you want to go all the way up Notre Dame to see the breathtaking view from the top you have to go outside and to the right of the building and wait on an enormous line that is quite different from the enormous line that you wait on smack dab in front to enter the breathtakingly beautiful church where today a choir was singing. And so we did not climb up to the top to see the view, which we can assure you would probably have been spectacular.
To make up for it, we shopped our little fashion loving hearts out and T has a slamming straw fedora and sparkly lavender trench coat to prove it!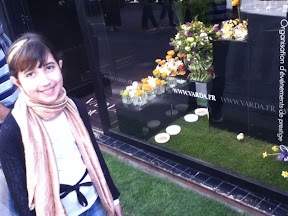 Okay, you got me, I have some fabulous black satin pajamas.
As far as being vegetarian goes, we first were served some fried eggs with a big lot of ham underneath it and then a grilled cheese with a big lot of ham underneath it. The waiter was very cute about it though. The eye opener about traveling with a growing T is that --after eating a chocolate croissant, a half. . .
. . .baguette, a grilled cheese sandwich, a plate of french fries and lemonade, raspberries and strawberries and a giant double scoop ice cream cone --she described having been starved today. And that was all within five hours!