It is like New York, but Cooler
We made it. The flight was perfect. My seat mate Marco from Napoli made the less than two hour trip zoom by. T and F were in the seats directly in front. The only tense moment was when i realized that you needed to hold on to your subway tickets in order to exit the Parisian subway system.
Our cutie-pie, little duplex is just about 15 blocks from the Louvre Museum. F and I have an all white bed upstairs underneath an enormous skylight without much else but the Parisian sky. The bathroom has these lovely green glass tiles. Unfortunately, it wasn't cleaned very carefully and I made the young real estate employee give us a bit of a discount.
I didn't let myself have more than half of the melt-in-your mouth-everything-I-hoped-for croissant this morning for breakfast, but I did drink the entire cafe creme. T and F devoured their
pain au chocolat
. In terms of manners, any locals that we've asked for directions from have been extremely helpful.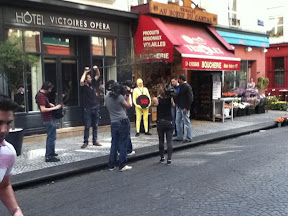 As for our language skills, we have a weird system. I speak Italian with three French words sprinkled in; T speaks in English that sounds more and more as though it has been translated from Italian. And poor F who theoretically speaks more French than any of us, speaks all three languages with increasing difficulty. T says we are like a delegation from the UN that has Alzheimer's. T also says she wants to go to the high school for linguistics and go to college in Paris. She says it is just like New York but cooler. And that my friends is our quote of the day.