Last night we had the best Thai food that I've ever had in my life at Villa Papillon. And that is saying a lot as there is no shortage of Thai restaurants or cold beer filled summer nights that I have spent in front of a steaming bowl of vegetarian pad thai. The vegetable buns that were called crepes melted under the tongue, as French food likes to do, and sang to the tune of sweet, salty, spicy dipping sauce and three fast moving forks.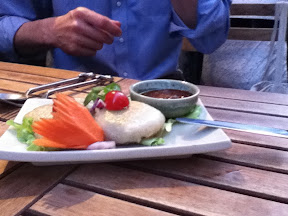 Today we walked a half marathon through le Marais and the left bank to the pantheon. A gold hearted man who looked just like Mr. Bean waked several blocks out of his way to show us how to get to our lunch destination chez Paul. We dined on a petit cheese plate that was the perfect combination of hard (sounded like-- cotelle) cheese, soft cambert, pungent Chevre, and creamy i-think-it- was butter.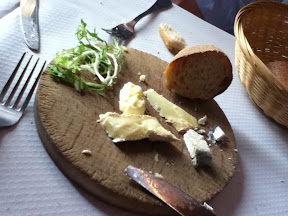 The legume lasagna was so good that while T was photographing it she said, "I am eating this stuff right this minute and my mouth is still watering."
We also had white asparagus that was so regal that her highness tasted of earthly travels to a beautiful underworld where mysterious glories grow into food for the extremely fortunate. We had to
fare la scarpetta
and use extra bread to mop up the sauce which made our waiter chuckle.